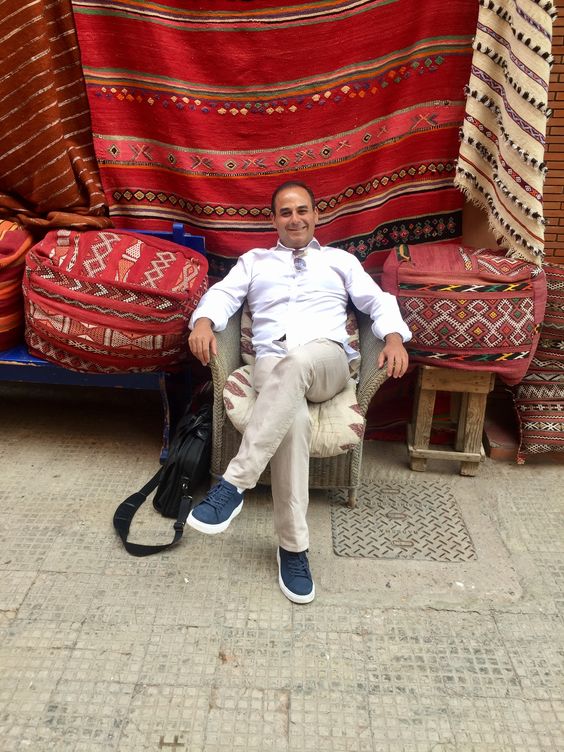 Vintage Moroccan Rugs: Discovering the gems of Marrakech
One of the key factors that have contributed to Mehraban's success in the Interior Design world is our commitment to finding unique and authentic vintage pieces, by sourcing them directly from our exclusive network of sellers in rug centers around the world, such as Marrakech. Our frequent visits to Morocco have been the key to positioning Mehraban as a leading luxury rug store specializing in Moroccan Style, Contemporary Moroccan, and Vintage Moroccan rugs. 
Vintage Moroccan rugs offer a level of quality and craftsmanship that is hard to replicate. They are handcrafted using natural fibers, such as wool or silk, and have unique patterns and colors: No two Vintage rugs look the same.
The Rug Business in Marrakech
The rug business in Marrakech is a significant part of the city's economy and cultural heritage. Marrakech has a long and rich history of rug making, with many skilled artisans and weavers passing down their craft from generation to generation.
The rug business in Marrakech is centered around the city's famous souks, which are a maze of narrow streets and alleys lined with vendors selling everything from spices to textiles to handicrafts. 
In the souks, there are many shops and stalls dedicated to selling rugs, and it is a common sight to see vendors sitting outside, working on their looms.
One of the reasons why the rug business is so important in Marrakech is that it is an essential part of the city's cultural identity. Rug making has been a part of Moroccan culture for centuries, and many of the rugs made in Marrakech are woven using traditional techniques and designs. 
Each rug has a story to tell, with its unique design, color, and pattern reflecting the region it was made in, as well as the cultural and historical influences that shaped it.
The rug business in Marrakech is also significant from an economic standpoint. Many families in the city rely on rug making as their primary source of income, and the export of Moroccan rugs is a significant contributor to the country's economy. As a result, there is a robust trade in rugs, with buyers coming from all over the world to purchase these beautiful and unique pieces.
While there are challenges associated with the rug business, including market volatility and competition from other countries, it remains an essential part of the city's identity, and a source of pride for the many skilled artisans and weavers who call Marrakech home.
Collapsible content
Continue Reading...

Our Relationships with Rug Sellers

Maintaining relationships with rug sellers is of significant importance for Mehraban. Building and maintaining these relationships allow us to ensure a steady supply of high-quality Moroccan vintage rugs and learn about the history and culture behind each rug, which we can proudly share with our customers.

Locating top-quality Vintage rugs requires a great deal of patience, persistence, and an eye for detail. During our visits to Marrakech we spend hours scouring the souks to find hidden gems and unique pieces. After carefully inspecting each rug, examining its quality, craftsmanship, and unique features, the selected rugs become part of Mehraban's Collection in our Los Angeles Showroom. 

By navigating local customs and culture to find distinctive rugs in Marrakech and other regions, we are able to share with our clientele a piece of authentic Moroccan heritage and artistry. We understand that each rug has a unique story to tell and that it is our responsibility to preserve the history behind each piece.